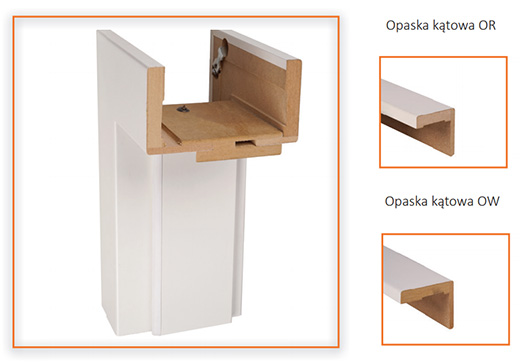 The frame body consists of a 22 mm thick MDF board.
The front part (from the door side) and the adjustment part are flat angular strips 60mm wide (TR) or 80mm (TW).
TR and TW adjustable door frames are available in TOP-DECOR and ECOLINE foils and CPL laminates.
Another choice is the trim angle: 45◦ or 90◦
The product allows you to change the width in the range of 40mm, and different ranges allow it to be placed in a wall with a thickness of 80mm to 500mm.
Adjustable TR tunnel with a band overlapping a 6 mm wall or TW with an 8 mm band is an ideal solution for finishing door openings not only because of the properties that protect the corners of the walls, but above all as a form of interior decoration.
The tunnel is also recommended for wall cladding when purchasing a wall-frame system.
- a set of vertical bases
- upper beam
- mounting kit
- surcharge for a double frame + 30%
- surcharge for beam in size "100" and higher + 30%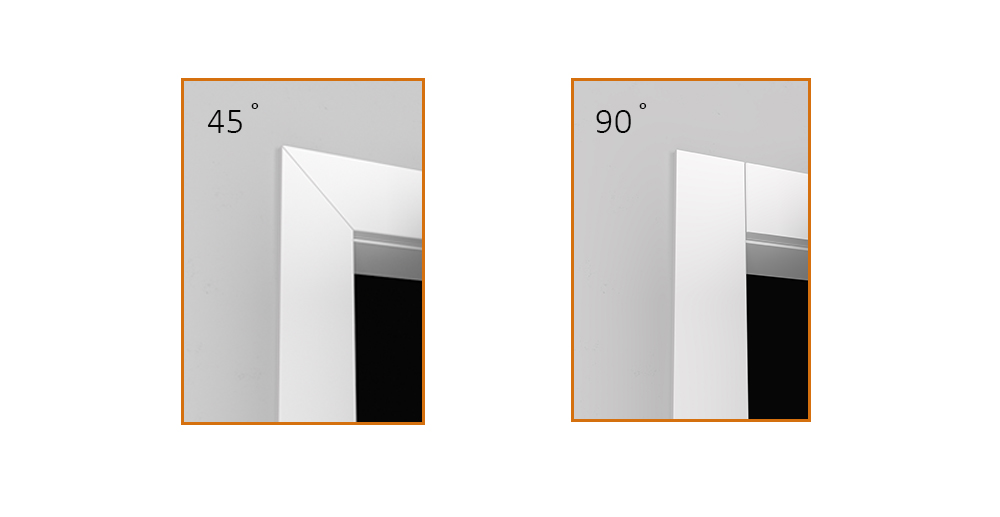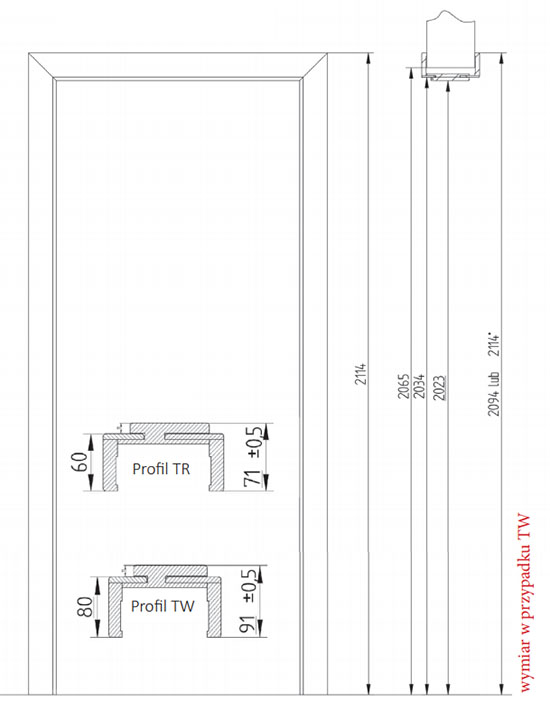 | TR / TW | Range | Number of panels |
| --- | --- | --- |
| TR 1 | 80-100 | 1 |
| TR 2 | 100-140 | 1 |
| TR 3 | 140-180 | 1 |
| TR 4 | 180-220 | 1 |
| TR 5 | 220-260 | 1 |
| TR 6 | 260-300 | 1 |
| TR 7 | 300-340 | 2 |
| TR 8 | 340-380 | 2 |
| TR 9 | 380-420 | 2 |
| TR 10 | 420-460 | 3 |
| TR 11 | 460-500 | 3 |
Extension panel 160 mm 60-90
Extension panel 160 mm 100
Extension panel 120 mm 60-90
Extension panel 120 mm 100
Angle clamp TR / TW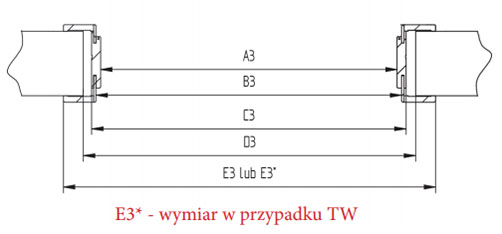 | | 60 | 70 | 80 | 90 | 100 |
| --- | --- | --- | --- | --- | --- |
| A3 | 602 | 702 | 802 | 902 | 1002 |
| B3 | 624 | 724 | 824 | 924 | 1024 |
| C3 | 646 | 746 | 846 | 946 | 1046 |
| D3 | 680 | 780 | 880 | 980 | 1080 |
| E3 | 744 | 844 | 944 | 1044 | 1144 |
| E3 * | 784 | 884 | 984 | 1084 | 1184 |
| | 60 + 40 | 2x60 | 60 + 70 | 60 + 80 | 60 + 90 | 70 + 40 | 2x70 | 70 + 80 | 70 + 90 | 80 + 40 | 2x80 | 80 + 90 | 90 + 40 | 2x90 |
| --- | --- | --- | --- | --- | --- | --- | --- | --- | --- | --- | --- | --- | --- | --- |
| A3 | 1050 | 1250 | 1350 | 1450 | 1550 | 1150 | 1450 | 1550 | 1650 | 1250 | 1650 | 1750 | 1350 | 1850 |
| B3 | 1072 | 1272 | 1372 | 1472 | 1572 | 1172 | 1472 | 1572 | 1672 | 1272 | 1672 | 1772 | 1372 | 1872 |
| C3 | 1094 | 1294 | 1394 | 1494 | 1594 | 1194 | 1494 | 1594 | 1694 | 1294 | 1694 | 1794 | 1394 | 1894 |
| D3 | 1135 | 1335 | 1435 | 1535 | 1635 | 1235 | 1535 | 1635 | 1735 | 1735 | 1735 | 1835 | 1435 | 1935 |
| E3 | 1192 | 1392 | 1492 | 1592 | 1692 | 1292 | 1592 | 1692 | 1792 | 1792 | 1792 | 1692 | 1492 | 1992 |
| E3 * | 1232 | 1432 | 1532 | 1632 | 1732 | 1323 | 1632 | 1732 | 1832 | 1832 | 1832 | 1732 | 1532 | 2032 |