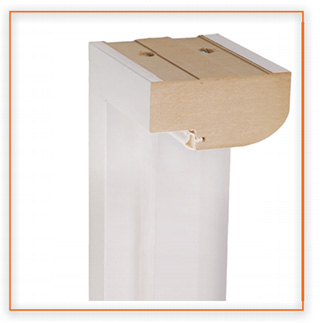 The door frame is made of solid MDF, 44 mm thick. It is covered with TOP-DECOR, ECOLINE and CPL foil. It has a fixed width of 90mm. It is available in a 3-hinge version.
A masking trim and a quarter round can be used for the fixed frame, thanks to which the final effect will be more aesthetic.
The fixed door frame is recommended for all rebated internal doors, except for the "Solid Pro" "Volume" door leaves.
- a set of vertical bases
- upper beam
- a gasket matching the color of the door frame
- assembly kit with two or three hinges
- surcharge for a double frame + 30%
- surcharge for beam in size "100" and higher + 30%
Base
Beam 60-90
Flat headband
A quarter round
Wooden door frame set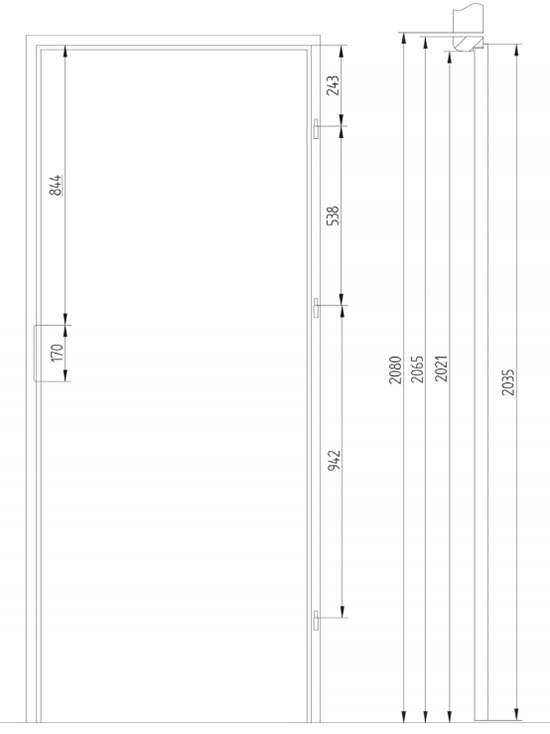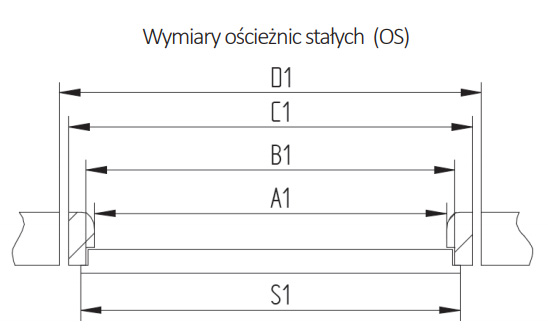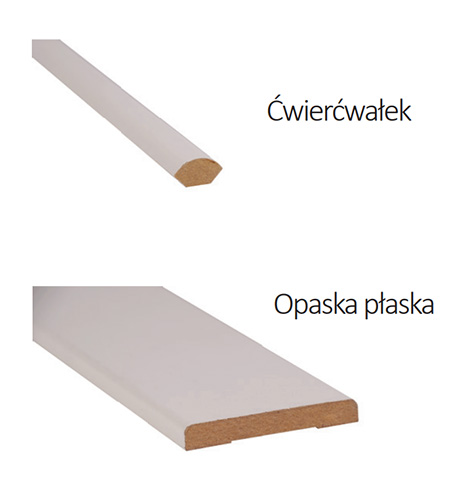 Base
Beam 60-90
Flat headband
A quarter round
Wooden door frame set
| | 60 | 70 | 80 | 90 | 100 |
| --- | --- | --- | --- | --- | --- |
| S1 | 644 | 744 | 844 | 944 | 1044 |
| A1 | 598 | 698 | 798 | 898 | 998 |
| B1 | 625 | 725 | 825 | 925 | 1025 |
| C1 | 687 | 787 | 887 | 987 | 1087 |
| D1 | 711 | 811 | 911 | 1011 | 1111 |
| | 60 + 40 | 2x60 | 60 + 70 | 60 + 80 | 60 + 90 | 70 + 40 | 2x70 | 70 + 80 | 70 + 90 | 80 + 40 | 2x80 | 80 + 90 | 90 + 40 | 2x90 |
| --- | --- | --- | --- | --- | --- | --- | --- | --- | --- | --- | --- | --- | --- | --- |
| S1 | 644 + 444 | 2x644 | 644 + 744 | 644 + 844 | 644 + 944 | 744 + 444 | 2x744 | 744 + 844 | 744 + 944 | 844 + 444 | 2x844 | 844 + 944 | 944 + 444 | 2x944 |
| A1 | 1046 | 1246 | 1346 | 1446 | 1546 | 1146 | 1446 | 1546 | 1644 | 1646 | 1646 | 1746 | 1346 | 1846 |
| B1 | 1073 | 1273 | 1373 | 1473 | 1573 | 1173 | 1473 | 1573 | 1673 | 1673 | 1673 | 1773 | 1373 | 1873 |
| C1 | 1135 | 1335 | 1435 | 1535 | 1635 | 1235 | 1535 | 1635 | 1735 | 1735 | 1735 | 1835 | 1435 | 1935 |
| D1 | 1161 | 1361 | 1461 | 1561 | 1661 | 1261 | 1561 | 1661 | 1761 | 1761 | 1761 | 1681 | 1461 | 1961 |