Adjustable non-rebated door frame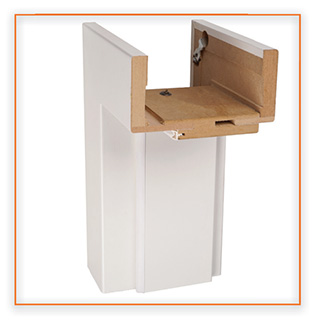 The frame body consists of a 22 mm thick MDF board.
The front part (from the door side) and the adjustment part are flat angular strips.
ORB adjustable door frames are available in TOP-DECOR and ECOLINE films and CPL laminates.
Another choice is the trim angle: 45◦ or 90◦
The product allows you to change the width in the range of 40mm, and different ranges allow it to be placed in a wall with a thickness of 96mm to 516mm.
The frame (ORB) is dedicated to all modular non-rebated door leaves.
Note:
To install a non-rebated door frame, it will be necessary to make additional holes in the wall opening to make room for the covers of the hidden (hidden) hinges.
- a set of vertical bases
- upper beam
- a gasket matching the color of the door frame
- mounting kit with three hidden hinges
- surcharge for beam in size "100" and higher + 30%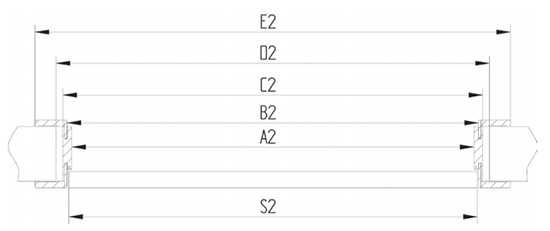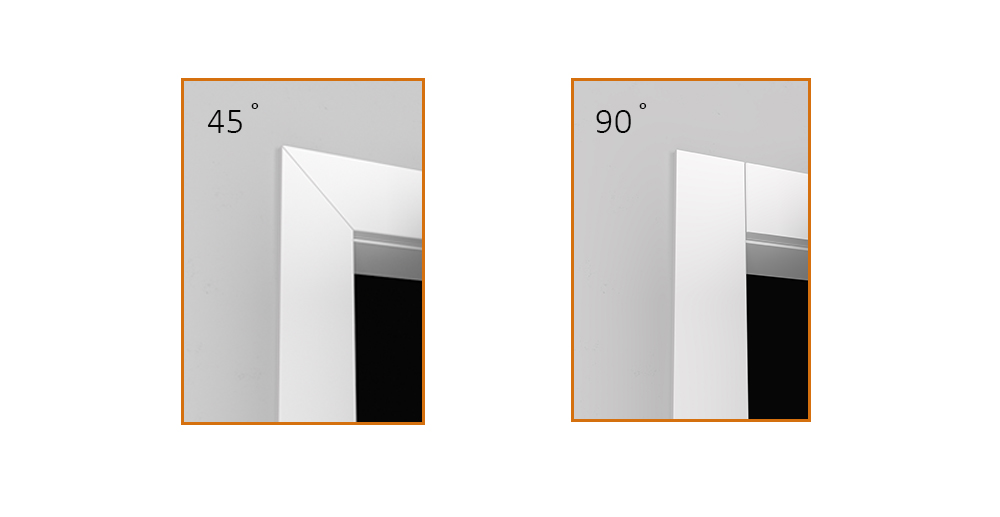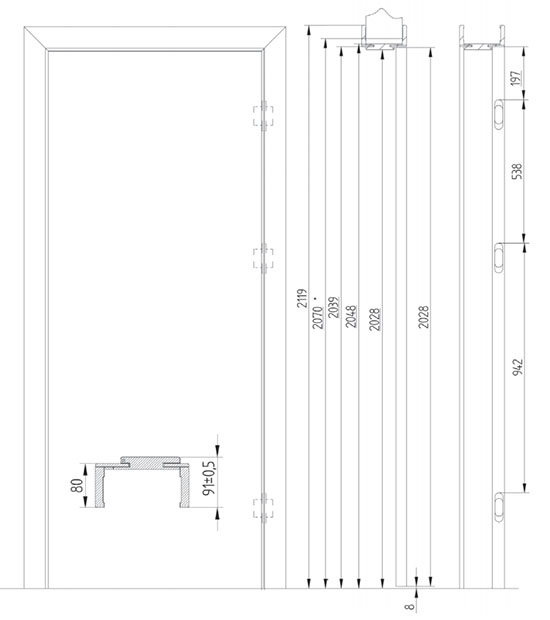 | ORB | Range | Number of panels |
| --- | --- | --- |
| ORB 1 | 91-116 | 1 |
| ORB 2 | 116-156 | 1 |
| ORB 3 | 156-196 | 1 |
| ORB 4 | 196-236 | 1 |
| ORB 5 | 236-276 | 1 |
| ORB 6 | 276-316 | 2 |
| ORB 7 | 316-356 | 2 |
| ORB 8 | 356-396 | 2 |
| ORB 9 | 396-436 | 2 |
| ORB 10 | 436-476 | 3 |
| ORB 11 | 476-516 | 3 |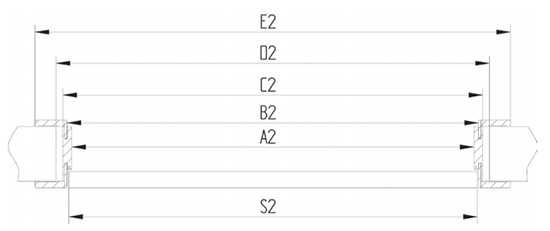 | | 60 | 70 | 80 | 90 | 100 |
| --- | --- | --- | --- | --- | --- |
| S2 | 618 | 718 | 818 | 918 | 1018 |
| A2 | 602 | 702 | 802 | 902 | 1002 |
| B2 | 624 | 724 | 824 | 924 | 1024 |
| C2 | 646 | 746 | 846 | 946 | 1046 |
| D2 | 680 | 780 | 880 | 980 | 1080 |
| E2 | 784 | 884 | 984 | 1084 | 1184 |